Independence Day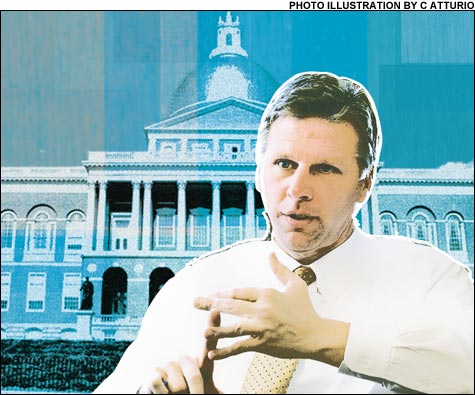 Following the weekend marking the anniversary of the U.S.'s independence, another man has declared his own, Massachusetts Treasurer Timothy Cahill.  He has announced he is leaving the Democratic party, and is currently un-enrolled. Many are considering this to be the first step toward a run for governor.
This is a strong move from the Commonwealth's treasurer.  Not only does this separate himself from the more fiscally liberal Democrats on Beacon Hill, but it also means he won't have to take Deval Patrick one on one in a Democratic primary.
Yet, this potential candidacy could also spell disaster for the Dems' hopes of holding on to the governorship.  Cahill would likely take Democratic voters away from Patrick, dividing the party and possibly allowing a Republican back into the corner office.
Governor Patrick certainly has his work cut out for him in his 2010 re-election campaign.  He has failed to pass several key pieces of legislation, most importantly casino gambling, which he has been advocating for years now.  He has also proposed an increase in the gas tax, taxes on soda, candy and alcohol, and has raised the state's sales tax from 5% to 6.25% (effectively 7 cents per dollar).  All of these issues have left Patrick's approval ratings in shambles.  Seems like a perfect moment for Cahill to strike.
It is a lot to swallow for Bay Staters, but they may forget all about their governor's short comings (much to Mr. Cahill's dismay) when he rolls out some of his close, popular friends from Washington.  You know, like President Barack Obama.
Labels: Barack Obama, Deval Patrick, governor, Timothy Cahill