Oldest President Dies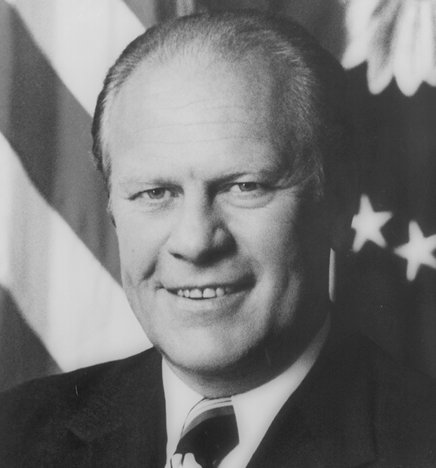 Earlier this year Gerald Ford became the oldest living President of the United States. On Tuesday, December 26 he passed away at the age of 93.
Ford became president in 1974 after the resignation of president Richard Nixon. Ford is the only non-elected president in the history of the nation. He is remembered for his controversial pardon of Nixon, whom was never convicted of a crime. The United States pulled out of Vietnam, and celebrated its 200th Anniversary. Many people consider him to be the man that helped guide the nation through one of its most trying times with the Watergate coverup.
Two would be assassins attacked Gerald Ford within 17 days of one another. Lynette "Squeaky" Fromme tried to shoot him, but her gun didn't go off. Later, Sarah Jane Moore also tried to shoot him, but she proved to have poor aim.
In a statement his wife, Betty said "His life was filled with love of God, his family and his country."
George W. Bush called him a "great man" and a "true gentleman".
Ford is currently the oldest president, followed by Reagan, Hoover, and John Adams.
My Opinion: Whenever a president dies a nation must stop a pay its respects. For his politics do not matter in the end. He was a great man despite his policies, or anyone's opinion of him. He is a special man because he was a brave person who chose to serve the people of his country. He has taken an oath to uphold the Constitution and make the United States stronger than it is. This simple fact that this person has volunteered their time and effort into their country is an admirable characteristic. With the passing of Gerald Ford there will be as there should be national recognition of his contribution to the United States.